NO. 1
WHO WE ARE
Born and raised on O'ahu, Hawai'i, our founder Juliet Pearson enjoyed having the beaches, the ocean, and the tropics as her playground. The ethereal beauty of her surroundings built her love and appreciation for Nature and, ultimately, her desire to protect and conserve it.

However, the ever-increasing disposable plastic waste has devastated these once pristine sites.

So in 2020, My Bougie Bottle was launched.
NO. 2
WHY WE'RE HERE
We've made it our mission to create the toughest, most beautiful drinkware and accessories that are safe for our planet, so our customers can look, feel and know they're sustainably bougie.
Our products have gained notoriety for their designs that fuse fashion trends and function, making them an essential accessory and hydration companion everyone can fall in love with.
NO. 3
HYDRATE IN STYLE
Hydration is crucial to staying healthy and fit while maintaining your skin's youthful appearance. When you drink enough water, the cells in every part of your body get hydrated through the blood. The skin, the largest organ in the body, also gets hydrated, even as the impurities and toxins get flushed out at the cellular level. Drinking enough water helps the body to flush out toxins while giving you healthier skin. Studies have revealed that drinking just a bottle of water can increase blood flow to the skin, which provides it with an even tone.
NO. 4
WE'RE PROUD OF WHAT WE DO
There are a variety of reusable brands out there, although many don't offer convenient features for women on the go, and most lack stylish and beautiful designs.

Not only are our products sustainable for the planet as well as safe for you, but you'll be the envy of all your friends when you show off your bottle.
no. 5
our inspiration
With a lifelong animal and environmental advocate leading My Bougie Bottle, we predominately use designs that celebrate nature – our greatest inspiration, our MOST IMPORTANT ASSET.

Our striking designs are intended to inspire and raise awareness of the benefits that conservation has on our planet. Using nature as our muse, we are creating vessels of art.
NO. 6
REFILL NOT LANDFILL
Did you know it takes 17 million barrels of oil to produce a year's worth of plastic water bottles, which ultimately end up in landfills and our oceans, devastating precious marine life?

Plastic pollution has been overwhelming our environment for years. It's time to change our habits and evolve to preserve our planet. Reusable bottles have far less harmful impact on the environment than plastic bottles.
no. 7
how we
give back
Our mission at My Bougie Bottle is to bring quality reusable drinkware to all. Our goal is to work with organizations locally and globally to support reusables.

Learn more about some of our partnerships: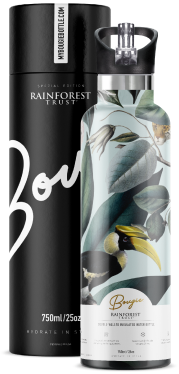 My Bougie Bottle is proud to be a Conservation Circle Partner of Rainforest Trust, one of the world's most effective conservation charities. We are donating to Rainforest Trust's Conservation Action Fund to support and protect endangered species, threatened rainforests and other tropical ecosystems around the world.

As a partner, 5% of the proceeds generated from the sales of our Rainforest Trust-branded products will directly benefit the Rainforest Trust and their critical efforts. Our donations will safeguard real acres of rainforest and the wildlife within them.
Shop rainforest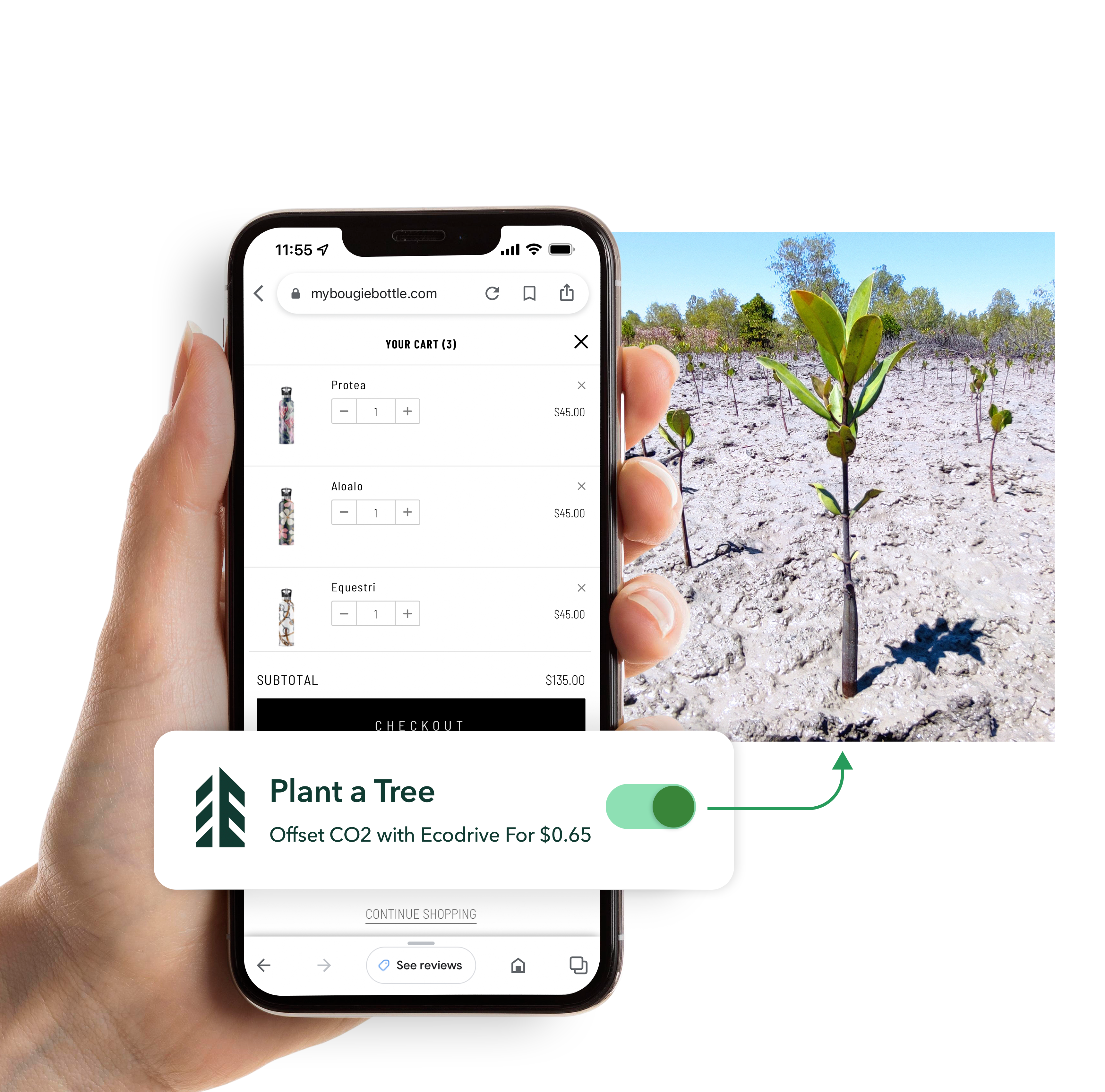 Place an order, plant a tree
We are proud to announce that we are continuing to help reduce our environmental impact and offset carbon emissions for your orders by having trees planted to eliminate CO2 generated by the package shipment.

Carbon offset
Every time our customers hit the Ecodrive toggle at our checkout, we provide funds to plant a tree. This offsets the amount of carbon needed to ship that package. Our partner, Ecodrive plants a mangrove tree, one of the most oxygenating trees in our environment. Just 10 trees planted represent 6,800lbs of CO2 offset!
NO. 8
staying
bougie
Once you've tried our products for yourself, we would love to hear your thoughts, concerns or questions, so please email us at info@mybougiebottle.com. We take customer care very seriously and we will always respond as soon as possible.

Warmest aloha!

Founder of My Bougie Bottle
STOCKLIST
Hotels
Waldorf Astoria Casa Marina (FL)
The Reach Hilton Key West (FL)
Mauna Lani Auberge Resort (HI)
Four Seasons Hualalai (HI)
Moana Surfrider, A Westin Resort & Spa (HI)
The Royal Hawaiian Hotel (HI)
Kahala Hotel (HI)
Turtle Bay Hotel (HI)
Grand Hyatt Kauai, Accents #426 (HI)
Honua Kai, Whalers #462 (HI)
Wailea Marriott, Holoholo #465 (HI)
Hyatt Regency Maui Accents #490 (HI)
Kauai Marriott Beach Club, Lamonts #471 (HI)
Old Monterey Inn (CA)

Airports & Casinos
LICK Stores (LAX /LAS) (Marshall Retail Goup, USA)
Harrah's Ak-Chin (AZ)
Paradies Lagardere Shops (JFK/TPA)
Grocery & Health Store
Pierre LaFond (CA)
Southport Market (NC)
Morganton General Store (NC)
Ashland Shop n'Kart (OR)
Abundant Life (HI)
Down to Earth Honolulu (HI)
Down to Earth Kapolei (HI)
Down to Earth Aiea (HI)
Tasty Kona (HI)
Keaukaha General Store (HI)
Henna Cafe (AZ)
Pekoe Sip House (CO)
Aquariums & Gardens
Aquarium of the Pacific (CA)
Sea Life Park. (HI)
Waikiki Aquarium (HI)
Florida Bay Save Our Waters (FL)
The Key West Butterfly and Nature
Conservatory (FL)
Magnolia Exotic Bird Sanctuary (TX)
Lauritzen Gardens/ Kenefick Park (NE)
Florists
Tea Blossom Floral (HI)
Terra Sol Garden Center (CA)
Petals N Wax (CA)
Floral Expressions (IL)
Botanica (FL)
Arnold's Frontier Hardware ACE (CA)
Gift Shops
Saint Croix Surf Shop (VI)
Ginger Thomas (VI)
Shell World of the Florida Keys (FL)
Hanily Design (FL)
Sumthn Beachie (NC)
Sea La Vie (NC)
Seaside Shenanigans (NC)
Livi Bug's Boutique (NC)
Pink Birch Boutique (WV)
Bomshell Boutique (MD)
A.L. Goodies (MD)
Patty Jeans (MD)
Sisters Gift Store (MD)
Heart & Home (DE)
Souvenier City (AL)
Bray & Em (AL)
Twisted Attitude (AR)
Grateful Gourmet Co. (IL)
Iron Fox Clothing (IL)
M & EM's (IL)
Alexander Gifts (MS)
Funky Monkey Stores (NY) (CT)
Impressions of Saratoga (NY)
Proper & Polished Inc. (NJ)
Frazetta's Costumes (PA)
Wishing Well Gift Shops/ St. Luke's Hospital (PA)
Kook's Eye Gallery (MI)
The Wild Bee (MI)
Borzynski's (WI)
Breezyberi's Boutique (OH)
Roobhard and Beauregard Home (OK)
Flamingo Bowl (TX)
CVA Products (TX)
Sposa Mi Couture (TX)
Kactus Jock (AZ)
Inner Peace (CA)
Balboa Pharmacy (CA)
JJ Jackson's (CA)
Element & Loft (CA)
Arnold's Frontier Hardware ACE (CA)
Smiles and Joy (WA)
Charisma Gifts (OR)
Yoga Barre (HI)
Home Grown (HI)
Coppolas (RI)
WIld Bee (MI)
Bombay & Cedar (GA)
Flirty Birdie Vintage (NC)
UNIQUES BY KENNEDY STUDIOS (FL)
Salons & Spas
Bang Hair Saloon (CA)
Peaches Skin Care (CA)(OH)
Baobab Group Crush Salon (MA)
Seaside Salon (AK)
Vibrance Medical Spa (CA)
Wineries & Wine Bars
Sidekicks Book and Wine Bar (WY)
Duplin Winery (NC)
Mai Grille (HI)
Hilo Bottle Shop (HI)
Seascape Foods (CA)
Online Retailers
Zulily
Pantastic
Nowwith
Amazon

Events – Featured Swag Bags
Cinémoi Fashion Film Awards (2020)
Sundance Film Festival (2021)
DPA Pre-GoldenGlobe Gifting Suite (2021)
DPA Pre-Academy Award Gifting Suite (2021)
DPA Pre- Emmy's Gifting Suite (9/2021)
DPA Pre-Academy Award Gifting Suite (2022)
Interested in stocking our products?
We are always looking for new retailers, big and small, to join our Bougie family. If you are interested in becoming a stockist of My Bougie Bottle drinkware and accessories, please fill in the wholesale form on the left side of the screen, and we will be in touch. We would love to hear from you.

Already a stockist? Login here